Why Is Spring the Best Time to Get Your Chimney Swept?
Go on, admit it – this happened last year to you, didn't it?
Summer already seemed like a distant memory, and the nights were drawing in. For the first time in what felt like ages, you realised you needed to heat the house.
So, you turned to your beloved fireplace, only to find that it wouldn't play ball. It was hard to keep alight, there was a horrible smell coming from it, and smoke would occasionally creep into the room.
Realising that you clearly needed to have the chimney swept, you called on professional help, only to find that it was all booked up for at least the next four weeks.
The result? A cold home and a lingering doubt that there could be some serious issues with that chimney of yours.
Don't worry – you're not alone. But there are many reasons why Spring is the best time of the year to get your chimney swept.
When the cold weather finally bites…
Just like everyone else, when the winter months arrive, you'll want to use your fireplace as soon as the weather turns cooler. There is, after all, nothing quite like cosying up in front of a roaring fire for the first time in months.
As noted, though, everyone else is doing the same thing, and some people are more organised than you. This means that the best sweeps are consequently booked up pretty solidly from September to January.
At SweepSmart, we recommend booking well before the winter, but at the latest, a month in advance. Making an 'off-peak' appointment is usually your best option.
It might need more than a sweep
Chimney sweeps do a lot more than sweep; they'll look for problems with your chimney, too.
Often, there'll be nothing wrong, but there may be something that needs remedial work. If this is only noticed during the cold season, it can leave you without a fire right when you need it most.
For instance, if parts are required during the busier period, it might take a few weeks to source them. Do you really want to be without your fireplace for that long?
Roof work relies on good weather
If any significant work needs undertaking to your chimney stack, the sweep will find it a whole lot easier in decent weather conditions.
This is why spring and summer are great options for a sweep and any remedial work. If it's dry and sunny outside, that good weather will enable the sweep to get on with their work unhindered.
If the work is undertaken during the winter, ice, snow, and rain can often result in the job being delayed.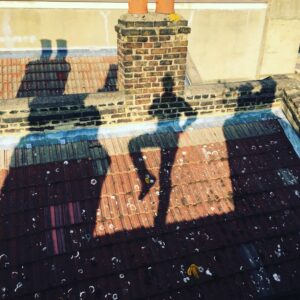 You might end up with a less experienced sweep
If you leave it too late to have your chimney inspected and swept, you may end up with a less than stellar sweep.
The busiest chimney sweeps are usually the best, and you need to get in there early if you want to grab their time. A last-minute booking will inevitably leave you with the less experienced sweeps, and that can result in a poor standard of work.
Peace of mind is vital when it comes to your chimney. There's no way of checking what the sweep has done, therefore you need to be able to rest safe in the knowledge that an experienced professional has done a good job for you.
The results can be pretty dangerous if the inexperienced sweep makes a hash of the job.
Insurance cover only lasts 12 months
This is an easy one to overlook.
After a chimney sweep, you'll be given an insurance certificate. But it's only valid for 12 months.
So, if you leave it until the last minute to book your annual sweep and they can't come out for a few weeks, that's a few weeks potentially without insurance if something goes wrong.
Soot is a nasty thing when left unattended
The longer you leave soot, the bigger problem it becomes.
Soot is very corrosive. Once the cold weather has passed for another year, it's an ideal time to remove any soot that has built up in your chimney.
If you don't, it'll slowly eat away at your brick joints and even corrode the steel liner in the chimney. It's yet another reason an annual sweep booked well in advance is the best thing for every part of your fireplace.
Ready to book?
Dirty chimneys are unsafe and can leave your house smelling of soot during the warmer months. So, there really is no excuse not to get that sweep booked long before the cold snap hits.
To book yours, just get in touch with the experienced SweepSmart team today and they'll leave you with the ultimate peace of mind every chimney owner needs.